The Ten Ox Herding Pictures
Collaboration with calligrapher Yoko Nishina
September 2019
Shoyeido Gallery, Kyoto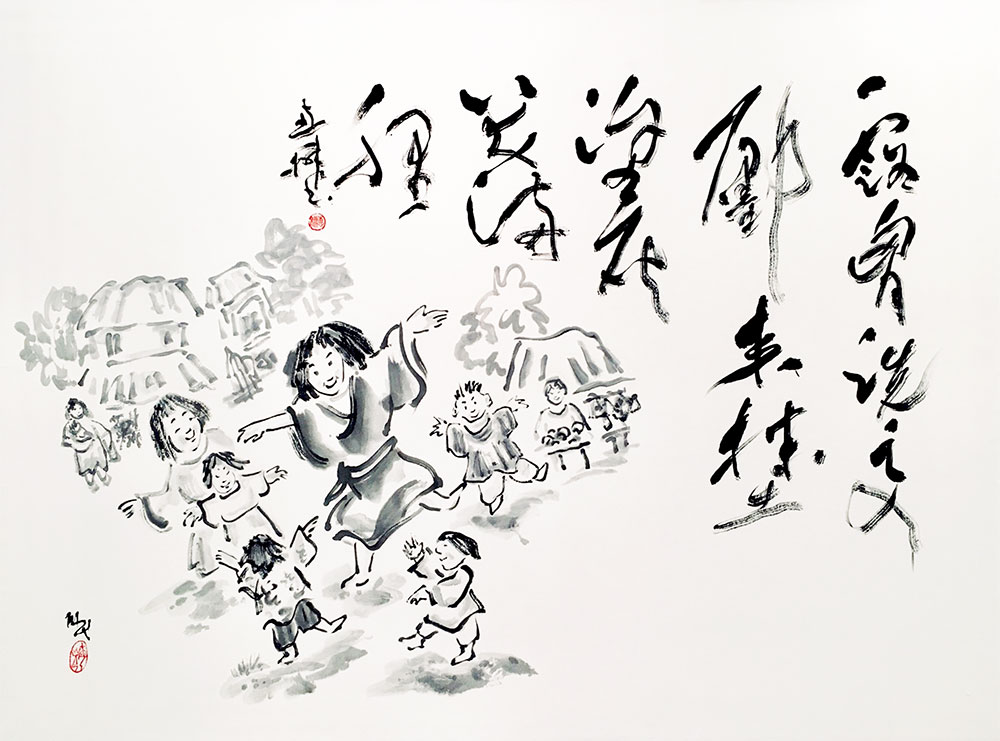 American Artist in Kyoto
by Kansai TV
A 30 minute documentary about American Sumi-e artist Michael Hofmann and his life in Kyoto, including his painting of a mural in a Zen temple.
It includes his study with Japanese master painter and Zen priest Jikihara Gyokusei. Shown on national TV in Japan, 1998
Abiko Kannon
Master sumi-e painter Jikihara Gyokusei paints a mural in a Buddhist temple in Osaka, Japan.
Commentary in English by his student and disciple Michael Hofmann.
Painting as a Spiritual Odyssey:
Confessions of an Itinerant Artist
One Hour Presentation at Brown University in Autumn 2013
Michael reveals both the aesthetic technique and spiritual lessons learned from his long apprenticeship with Japanese master brush (sumi-e) painter and Zen priest Jikihara Gyokusei. Through a combination of slides and video, Hofmann shares inspiring moments of his life and studies in Kyoto, including footage of his 91-year-old teacher painting a large mural in a Japanese temple.
Hal Roth, Professor of Religious Studies, gives a six minute introduction.
Paintings With Lives of Their Own
Japan Times article by Catherine Pawasarat
"In my eyes, the work that's most successful comes as a gift. I may not even know it's coming, or it may happen when I've given up."
Transplanted Artist Settles In
Press Democrat article by Laurie Weed
"Artist Michael Hofmann spent nearly 40 years living in Japan before settling in Forestville."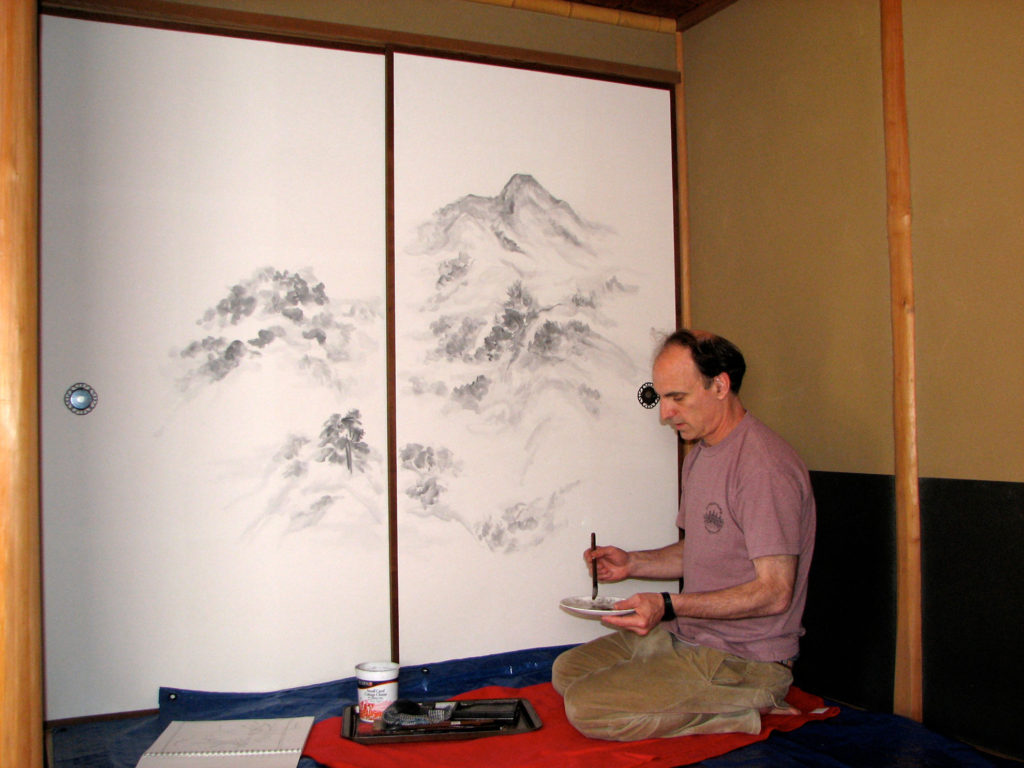 Michael Hofmann painting paper sliding doors (fusuma) at Green Gulch Farm Zen Center, Muir Beach, California
Biography
1948  Born in Oakland, CA
1970  Graduated from UCSB in Asian Studies
1970-1  Study of Buddhist sculpture with Ratna Sakya, Kathmandu, Nepal
1972-2010  Based in Kyoto, Japan working with the sumi-e painter & Zen priest Jikihara Gyokusei of Osaka
2010  Moved to Forestville
Teaching Experience
and Speaking Engagements:
San Francisco Asian Art Museum
Los Angeles County Museum of Art
Sebastopol Center for the Arts
Sonoma County Museum
Brown University
Mount Holyoke
Colby-Sawyer College
Pacific Zen Institute, Santa Rosa
Rockridge Meditation Community, Oakland
San Francisco Zen Center
Green Gulch Farm Zen Center, Marin County
Kojin-an Zen Temple, Oakland
Santa Rosa Junior College
Friends World College, Kyoto
Selected Solo Exhibitions:
2018   Gyokusei-kan Museum, Awajishima, Japan
2012   San Francisco Zen Center
2011   Mario Uribe Backstreet Gallery, Santa Rosa
2010   Gallery Sala, Kyoto collaboration with calligrapher Yoko Nishina
2008   Honen-in Temple, Kyoto
2006   Gallery 3A, Kyoto
2004   Gyokusei Museum, Awajishima, Japan
2003   Kyoto City Museum